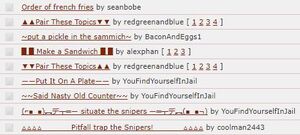 The Sandwich was a TBG trend starting in mid-late August 2017 where players bump threads to try to make a a group of the sandwich topics. It started with 2 threads called ▼▼Pair These Topics▲▲ but many threads were created adding new placement rules, the biggest being █ █ Make a Sandwich █ █ by alexphan. It caused controversy amongst some TBGers because of the amount of spam it added to the TBG forums.
The sandwich trend ended on August 27th, 2 days after it started, by alexphan who reported his topic, █ █ Make a Sandwich █ █, to be closed due to some players temporarily leaving because of the spam level.


Ad blocker interference detected!
Wikia is a free-to-use site that makes money from advertising. We have a modified experience for viewers using ad blockers

Wikia is not accessible if you've made further modifications. Remove the custom ad blocker rule(s) and the page will load as expected.